Holiday Greetings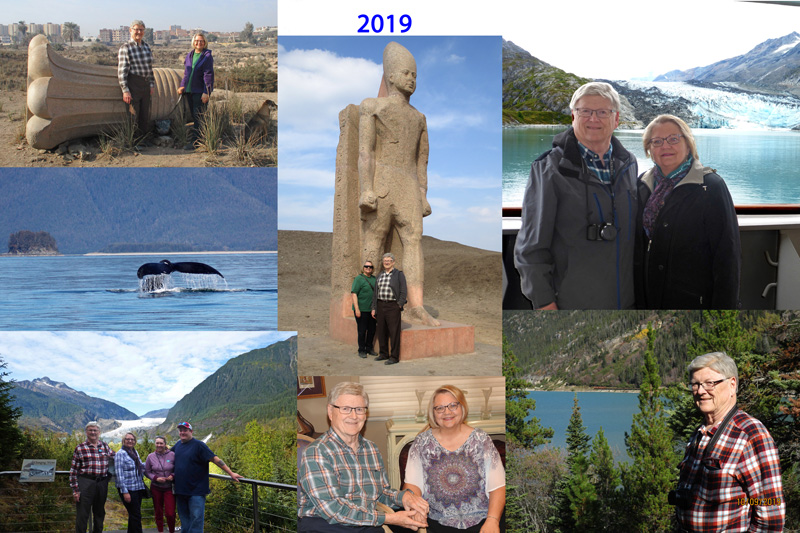 Clockwise, from the upper left:

Open Air Museum, Tell Basta, Egypt - Bonus link: Inside Museum

Open Air Museum, San el-Hagar, Egypt

Glacier Bay, Alaska

Lake Bennett, headwaters of the Yukon River

Fifty Years – June 21st

Mendenhall Glacier, Juneau

Whale's tail - Juneau, Alaska
Bonus Links with photos and Descriptions:
Christmas Letter 2019
After celebrating Christmas and New Year's Eve in Minnesota, we began the year with our customary twelve-week sojourn in Egypt. New explorations for us included a trip to the artist's colony of Tunis, about 40 miles from Cairo and a trip to an outdoor museum in the Nile Delta. That second visit included travel through Egypt's farmland in the Nile Delta and an overnight stop at the city of Ismailia on the Suez Canal where we spent some pleasant time watching the container ships passing by.
Other highlights in Egypt included visits to newly discovered tombs, seldom seen museums and, of course, much time spent with friends and neighbors. Our next-door neighbor family extended an invitation to their oldest daughter's wedding. The bride's husband is a graduate student in physics and the couple is now living in Montana as he pursues an advanced degree at Montana State. We were able to squeeze in a short visit with them in Bozeman in the fall.
Our 50th wedding anniversary was celebrated quietly in June. Later in the summer we celebrated a bit more with a cruise to Alaska and brought along Terry and his friend, Amy. We would like to have spent a bit more time actually in Alaska and less time on the ship – but ports are rather far apart in our 49th state. This did allow us to increase our "states visited" to fifty, and capitols photographed to forty-eight.
Highlights of the Alaska cruise, besides seeing the capitol building in Juneau, included a very successful whale-watching voyage and a fifty-mile narrow gauge railway trip through the rugged White Pass traveled by thousands of miners of the late 1890s on their way to the gold fields of the Yukon. Tom has now read four books about the Klondike gold rush days since returning home.
As we prepare to travel to the warmer climes of Egypt for another year, Linda has begun planning a trip to Peru for us in 2020 while also working on a trip to the Baltic countries for her traveling ladies group. She hosts an annual Christmas party for her working companions at Aetna during the 1970s while Tom stays in touch with his Pillsbury companions of the same era.
Terry continues working hard as a manager at a high-volume Holiday Station Store close to his home on the St. Paul side of the Twin Cities.
There is more to see!