Welcome to
Rashid's Tour Egypt
Home Page

Baharia Oasis and Desert Tours





Rashid at the Cave Church, 2016


Welcome to my Rashid Tour Egypt website.

I specialize in private tours, short or long, in the Cairo area. You can call me from your hotel to arrange a tour of Old Cairo, the Giza Pyramids, the Dashour/Memphis pyramids or the Egyptian National Museum on short notice.

If your visit in Cairo includes a Friday morning, I can arrange an early morning tour of the Cairo Camel Market.

With longer notice, I will be pleased to arrange travel and all arrangements for trips to the White Desert, Wadi Al-Hitan (the Valley of the Whales), the Hawara Pyramid, Aswan, Luxor or any other site of your choice.

I am a licensed tour guide with over twenty years of experience. References are available on request from very satisfied customers throughout the world.






---
See my reviews on Trip Advisor

To contact me on my mobile phone or use WhatsApp or Viber:
in Egypt: 010 688 68067
from outside: (002) 010 688 68067

E-mail: rashidsharm@hotmail.com
Tours and conversation offered in English, Spanish and Arabic.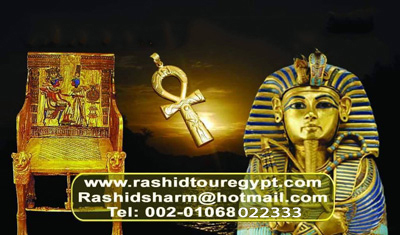 (This website is constantly "under construction"
You are now viewing Version 1.20 as of January 2017)