Captain Frank Brady
When I discovered that gr-gr-grandpa, Jasper Sawyers, had been killed by "Capt. Frank Brady of Gen. Duke's late command," I set out to learn something about Brady's background. He turns out to be a rather colorful character.
As a Confederate Colonel, John Hunt Morgan commanded a regiment of Kentucky cavalry that conducted a famous series of raids behind northern lines into Ohio and Indiana in 1862-63.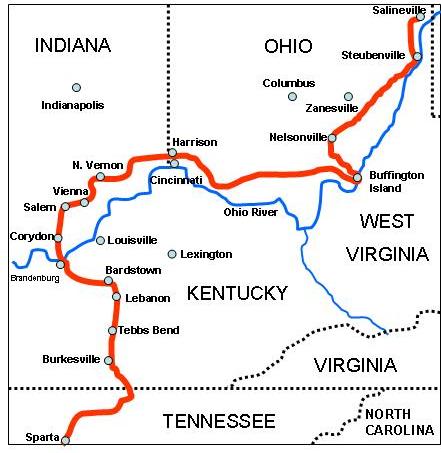 Morgan's cavalry was led by an elite unit known as Quirk's Raiders where Frank Brady served as one of three lieutenants. Brady appears in accounts of the war written by both Curtis R. Burke and Dr. John Allan Wyeth. This description comes from Wyeth's autobiography, With Sabre and Scalpel.
In the late summer of 1862 a squadron of Morgan's Kentucky cavalry in command of Maj. Basil W. Duke marched into Guntersville, Ala., my native town. They left at our home in my mother's care Lieut. Frank Brady, who had suffered an injury to one knee in a skirmish a day or two before at Whitesburg Landing, on the Tennessee River.

Of Irish extraction, born and reared near Georgetown, in the blue grass region, Brady was at this time about twenty five years of age, of athletic build, graceful carriage, handsome features, possessing withal an attractive personality. To other charms was added a well-trained voice, and he sang with feeling and expression many of the popular songs of that day. Among these I still recall "Lorena," "Bonnie Mary of Argyle," and "Johnny Has Gone for a Soldier."
When General Morgan was killed in September of 1864, Basil Duke took over command. In this capacity, Duke's forces accompanied Jefferson Davis when he fled Richmond in May of 1865 bound for the Florida Keys and ultimately, Cuba. The final official acts of the Confederate government took place in the town of Washington Georgia, about sixty miles east of Atlanta, on May 5. It was here that Basil Duke surrendered his remaining men. This town was the home of Robert Toombs who had initially been Secretary of State and later served as a general for the Confederacy before beconing disillusioned with Jefferson Davis. Nevertheless, when Davis and his cabinet appeared in town, Toombs offered Davis both money and assistance in fleeing the country. Although Toombs' home was in Washington, he also had a plantation near the Alabama border, a few miles from Eufaula. Toombs appears to have been present in Columbus, GA, on April 16 defending a bridge in what is considered the last battle of the Civil War.
It is purely speculation on my part that Frank Brady had remained with Basil Duke to the bitter end and also surrendered at Washington. If so, there is certainly a possibility that he had encountered Robert Toombs and through that connection found reason to proceed to Eufaula. Whatever it was that brought Brady to Eufaula in May, it was romance that kept him there. In the autumn of 1865 Brady married Mary Fulmore, daughter of wealthy planter, Joseph R. Fulmore. The Fulmores had liquidated their plantation holdings and were living in Eufaula during the war where Mary was attending the women's seminary on College Hill. (Joseph Fulmore's nephew had been hospitalized with Brady in Virginia during 1864 giving another possible connection to Eufaula.)
Mary Fulmore's marriage to Frank Brady began a sequence of personal tragedies. In 1866, Mary Fulmore's parents moved to Manatee, Florida where her father planned to open a mercantile business. Before their new home was completed in 1867, both parents died of yellow fever. Frank and Mary moved into the new home. A short time later, Frank drowned in Lake Ponchartrain while on a business trip to New Orleans.
Mary returned to Eufaula where, some fourteen years later she married local merchant, Robert Cherry. She remained in Eufaula until her death in 1926.
to be continued